I joined in on the fun of last month's Teacher Blogger Exchange. How fun to give a surprise gift and receive one in return! Look what was delivered to me:
Isn't it cute? It's an adorable scrappy rug from the fabulous Michelle! You probably know her as: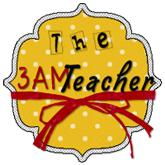 She's a mom who teaches, blogs, makes graphics, and crochets??? That woman is amazing! I love my new rug and I've put it in my laundry room too, Michelle! Thank you!!
I can't wait to participate in the next exchange!