Hi everyone! I'm Tessa from
Tales from Outside the Classroom
. I'm so excited to be participating in Mary's 15 Days of K! There have been some fantastic posts already and I've loved reading them! I hope to share a few new ideas with you.
Phonemic Awareness is a large part of kindergarten. Children need to build their phonemic awareness skills, by playing with sounds, to build the foundations for phonics and decoding. It is important to note that
phonics and phonemic awareness are NOT the same thing!
Phonemic awareness is the sounds that are heard in words. Phonics is the letters and letter combinations that make those sounds. Phonemic awareness is done orally, and it should be applied to print only after students can do a phonemic awareness skill. Phonemic awareness is a continuum of skills- each built on the one before it. I could spend hours talking about the entire thing, but today I'm focusing on phoneme segmentation and blending.
Phoneme segmentation is breaking apart words into their individual sounds, whereas blending is putting those sounds back together. Because these skills are practiced orally initially, it can be difficult for some students to grasp the concept. Connecting it to their gross and fine motor skills is a fantastic way to help students "get" it. Here's some ways I've done it.
Hula Hoops or Hop Scotch
Hop Scotch is one of my favorite ways! Student jump into a box as they say each sound. They can use one foot or two. If you have a large board like this you can have two different students working on different ends of the board. If you use hula hoops, you can lay them out and have students jump into each circle.
Head, Waist, Toes
Students touch a different part of their body as they say each sound. For words with 3 sounds, they touch their head, waist, and toes. For words with 4 sounds, they touch their heads, shoulders, waist, and toes.
Slinkys
Students use the slinky to streeeeeeeetch out the sounds in the word. They say the sound as they put the Slinky back together. I like to buy the Slinky Jr. because it works well with little hands. Plus, I can often find them for just $1 in the Dollar Spot at Target.
Say It and Move It
Students say the word in the picture and place a counter in each box as they say the sound. These boxes are called Elkonin boxes and are a great way to unite phonemic awareness and phonics. After students use the counters, they place the letters to reflect the sound in each box. Because the words are on the cards, I love this activity for centers. Some great Say It and Move It cards can be downloaded from the
Florida Center for Reading Research
I Like to Move It, Move It!
Okay, so I don't really have a name for these but I like the way that sounds :) You cut out the boats and place them in the water with each sound. Or, you cut out the ice cream and build your cone with each sound. I like items like these instead of Say It and Move It because you can choose the words and use it in small group instruction.
Click on either of the pictures above to download both pages.
If you'd like more resources for phoneme segmentation, blending, or phonemic awareness as a whole, I highly recommend these two books.
Tessa Maguire is a former reading teacher and differentiated instruction coach. She currently is in a dual role administration and curriculum coaching position. She spends her days helping her K-3 teachers find what works best for them and their students. She blogs about the resources she finds and creates and she shares tips and strategies for effective instruction. You can find out more information on her blog Tales from Outside the Classroom:
http://talesfromoutsidetheclassroom.blogspot.com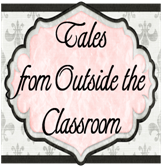 Need to revisit Day 1-8? Click on the picture below.
Stop back by tomorrow for Day 10 of our 15 Days of K Celebration!